Educate your prospects | Build your brand image | Generate real-time sales leads!
Promotional & Content Marketing Reinvented
Content marketing is a strategic marketing approach focused on creating and distributing valuable, relevant, and consistent content to attract and retain a clearly defined audience — and, ultimately, to drive profitable customer action.
Below you will find white-labelled content marketing solutions that educate your customer, increase your brand loyalty along with generating real-time leads for your business on auto-pilot!
Plug and play solutions requiring no IT department, designers or coding.
Each package contains the below products and functions.
Education-based Content Marketing
Educate | Engage | Sell
Educate your prospects with rich, engaging content written by subject matter experts.
Engage your prospect to take action with effective branding and messaging.
Generate leads and sell more of your products and services.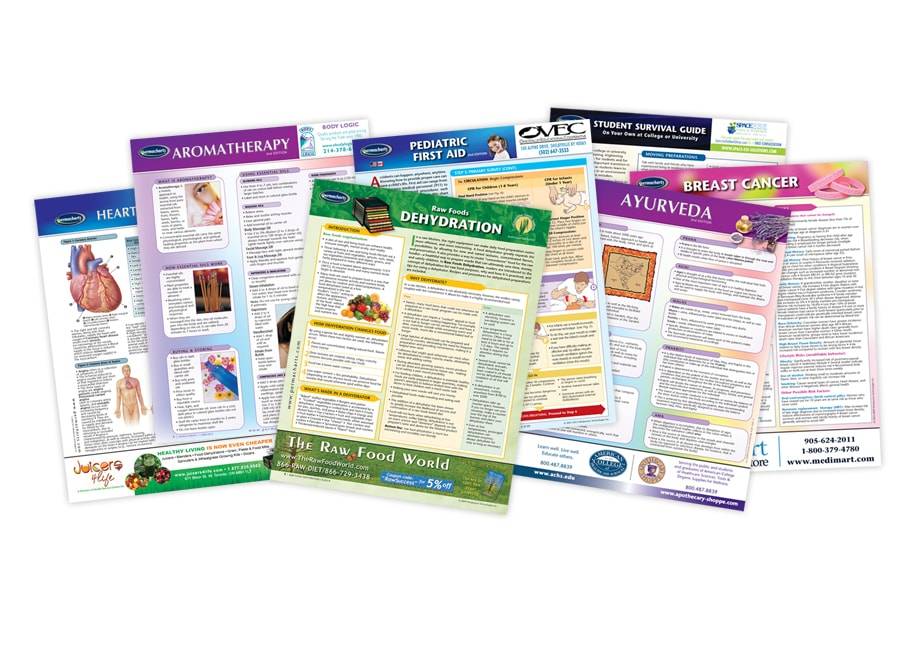 Laminated Hard Copies
Custom imprinted with your logo and brand information

Heavy gauge lamination means they last forever!
Educate your prospects with rich-content, facts and tips that will benefit them the most.
Become the subject authority and gain their trust.
Digital Downloads & Custom Landing Page, Lead Capture
Receive a custom designed landing page and unique URL link at no additional cost.
Offer prospects a free digital download of your custom imprinted chart in exchange for their opt-in lead information.
Embed clickable HTML links within the digital chart PDF to redirect prospects back to your website, blog or special offers.

No IT department needed, we do everything!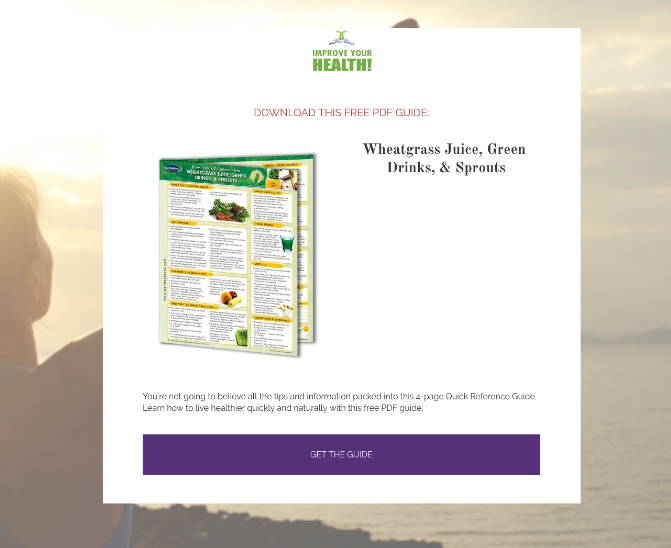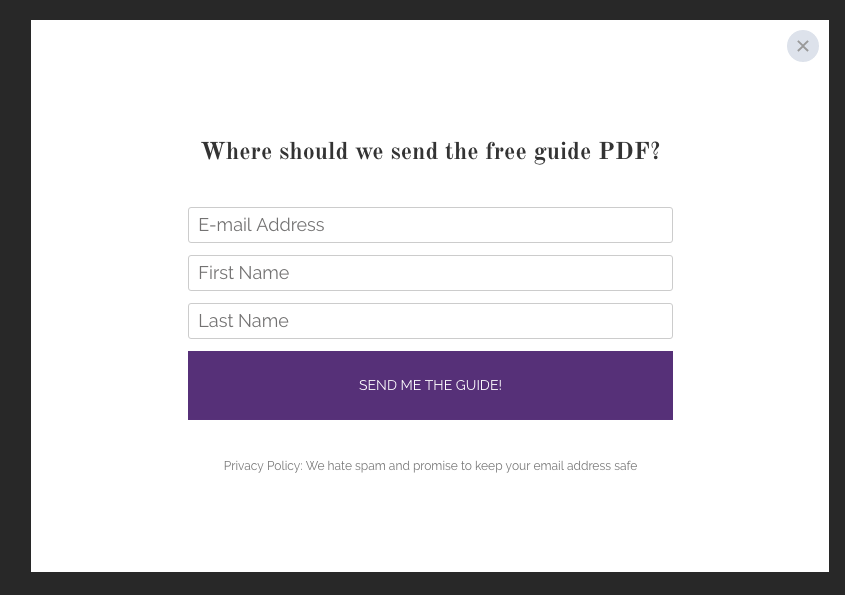 ---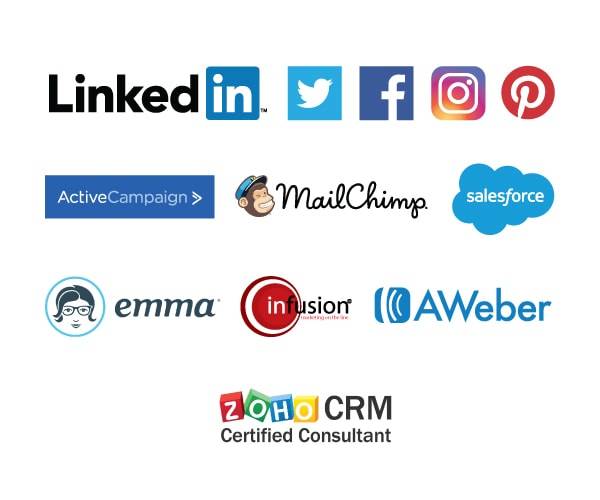 Sales Leads Post in Real-time
Customers information captured from the lead forms on your custom landing page are posted directly into your CRM
Immediately follow up on these hot leads via SMS, e-mail or outbound sales call
Collect name, phone number, email
Ask qualifying questions, run surveys and create viral referral campaigns.
We integrate everything for you, all you do is follow-up on the leads and make the sale!
---
Real Leads | Real Results
---
Case Study
Objective: Obtain opt-in marketing leads of people with celiac disease and gluten intolerance.
Budget: $600 - Facebook ads
Method: Offered a digital download of a Glute Free Living reference guide
Period: 2-weeks
Results: With a limited budget this campaign generated 2,749 unique visitor to the landing page resulting in 1,590 leads captured. An incredible 57.84% conversion rate!
Want these results for your business?

Select the plan that fits your business goals
---
---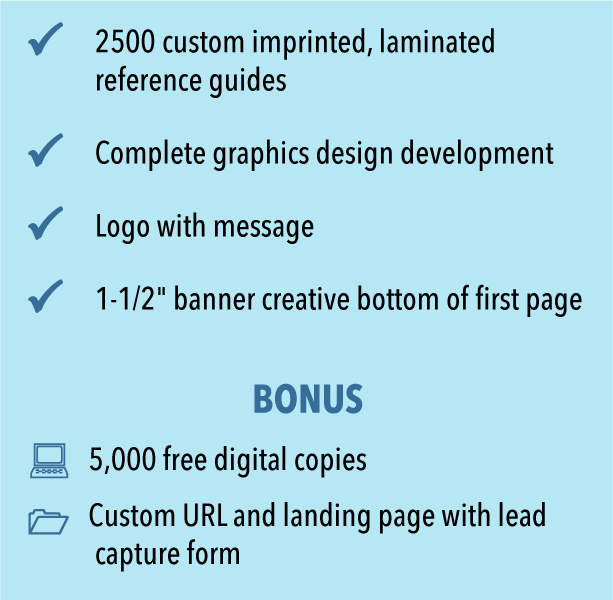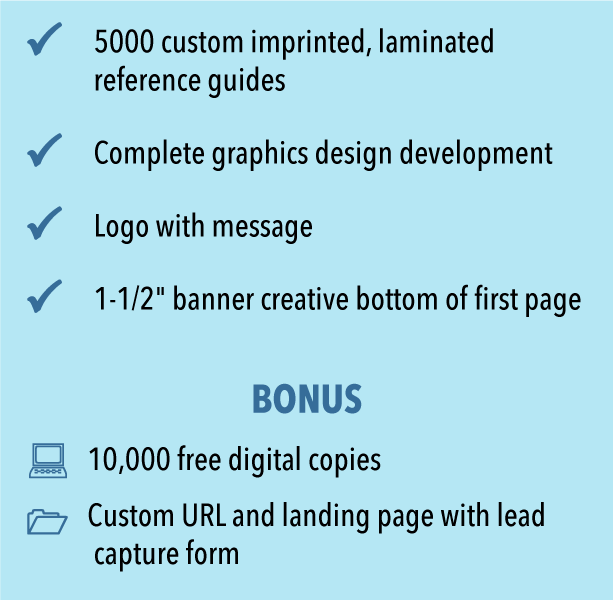 ---
How do I select the the quick reference guide subject that best targets my audience?
We work with you to select the best reference guide content to align with your business or service. Content that will enage your customer, building that all important loyalty and positions you business as the trusted source on the subject matter.
Where can I see samples of the quick reference guides?
Do I have to provide the design and artwork?
Most businesses provide us with their logo in a .png or .jpg format along with your branding/marketing message. We create the design and send you a final proof for your approval. If you need a logo and marketing message designed we can do that for a one-time fee of $189.
What are the dimensions of the quick reference guides?
Most of our guides are 4 or 2 page 8" x 11 " when folded. Posters sizes are either 24" x 36 or 18" X 24.
Does ImpactGuides create custom guides and content?
Yes, we can create, edit and design a custom reference guide on any subject.
Do I have to pay a licensing fee?
No, the content is your to use at no-cost in either printed or digital format.
Do I have to pay a design fee?
No, all our packages include design and revisions. All you provide is with your brand logo in a .png or .jpg format along with your branding/marketing message and we look after the rest.
Who creates and hosts the custom landing page?
We do it all for you at no additional cost. Once you approve the final result we provide you with the unique URL to your custom landing page.
How do I share the link to my custom landing page?
The link we provide can be shared as you wish. Copy and paste it into your website, blog pages and on social media.
How do I connect my lead capture form to my CRM or email platform?
We will work with you to get this integrated, the process is typically very straightforward.
How is the prospects opt-in consent and TCPA compliance captured from the lead forms?
We will provide the standard optin and TCPA compliant language on the lead forms for you or you can provide us with the language your prefer.
Can I embed hyperlinks in my digital charts to redirect people to my website/social media sites?
Yes, of course and this component helps to drive long term engagement so we highly recommend it.
How long does it take to get set-up from start to finish?
Typically we can have you up and running in just a few days!
---
Results are what matter
A poorly planned content marketing program will miss the mark and most promotional products have a very short lifespan. Stop wasting money on campaigns and promotions that don't produce real results.
Golf balls end up in the pond. Hats and t-shirts end up in the back of the closet, the time-less Budda stress-ball.....well enough said.  
Not sure what plan is best? Let us walk you through your options to get you the best result and realize a new source of sales leads and increase your revenue.
CONTACT US
Thanks! We will call you shortly.
This field is required
This field is required
This field is required
This field is required
This field is required
---